From December 4th to 5th, 2017 First International Scientific and Practical Conference "Step into the Future: Artificial intelligence and Digital Economy" was held at the Moscow State University of Management, within its framework took place the exhibition of leading developing companies in the field of artificial intelligence: CoBrain, iRavlov, IQmen, Adeptic and other companies.
The conference was organized by the Ministry of Education and Science of the Russian Federation and the State University of Management.
Visitors and participants of the conference were profile experts of federal and international level, including representatives of UNESCO, the State Duma of Russian Federation, the Ministry of Education and Science of the Russian Federation, leading laboratories of the Moscow State University in the field of studying artificial intelligence, and also journalists who focus society attention on this subject.
Representatives of "PAWLIN Technologies" LLC spoke in "Global markets of artificial intelligence systems: problems and prospects for developing artificial intelligence industry, strategic aspects of using artificial intelligence in national economy" section with a report on topic "The technology of self-learning neural networks for identifying deviations in user behavior during network threats diagnostics".
In preparation for the event, booklets were produced for distribution among visitors, a rollup with information about the company was designed and printed, an exhibition stand was designed, where the representatives were able to show the achievements of the first stage of ASREX implementation.
The stand attracted a large number of exhibition visitors interested in network threat detection system and other developments of "PAWLIN Technologies" LLC in related areas.
The event was also shown in "Parliamentary Hour" show on December 10, 2017 on channel "Russia 24".
The results of the conference are available on event website.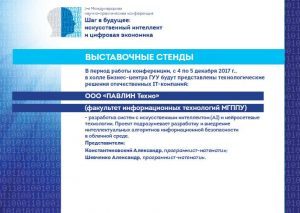 Information about exhibition stand of "PAWLIN Techonologies" LLC
Programmers-mathematicians A. Konstantinovsky and A. Shevchenko demonstrate the results to the correspondents on channel "Russia 24"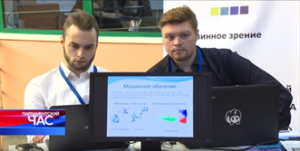 Booklet with the information about the project