From December 6th to 8th, 2017 the III International "Aviation IT Forum of Russia and CIS — 2017" took place in Moscow — a major international venue in Russia and CIS countries on experience exchange, presentation of the latest IT solutions in aviation industry.
The aim was a comprehensive discussion of present relevant issues in the field of information technologies used in aviation business in Russia and CIS countries.
Selection and presentation of available local and foreign high-tech and innovative IT solutions for regional air companies and airports, sharing practical application experience.
The Forum was focused on IT-directors, IT-specialists, technical directors of air companies and airports; chief designers, chief engineers, IT-directors and IT-specialists of aviation industry enterprises, managers and representatives of the companies providing specialized solutions and products, managers and representatives of federal government.
3 international conferences were held:
December 6, 2017 — IT in air companies;
December 7, 2017 — IT in airport business
December 8, 2017 — IT in aviation industry
Industrial partner of the project, "Sh-Air-S" LLC, together with General Director of "PAWLIN Technologies" LLC Pavel Scribtsov presented the results of the first research stage and made a presentation on topic "Experience of automation of Flight Safety Management System processes according to corporate standards of "Aeroflot" PJSC".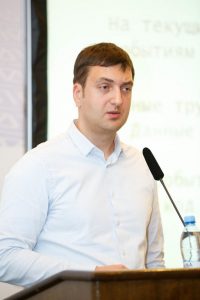 Pavel Scribtsov presented the experience of developing and implementing unified integrated automated system for aviation events and risk assessment in relation to flight safety, in accordance with Russian standards, ICAO standards and practice recommended by IATA.
Safety management processes in air companies are implemented in accordance with Russian standards, ICAO standards and practice recommended by IATA. In accordance with collecting and analysing methods of information related to flight safety, there's activity held with the purpose to identify potential risks.
The implementation of information system with a single entry point helped to automate large amount of work in collecting and analysing data from various resources, and to significantly reduce data processing errors. At the start of that project , flight safety risks assessments were done based on retroactive and proactive strategies. Using  centralized system allowed to automate these processes. Performing additional scientific researches together with our partners and developer allowed us to develop the most up-to-date solution in the field of forecasting, i.e. to implement highly effective forecasting strategy.